BOINC is short for Berkeley Open Infrastructure for Network Computing, which is a open-source software that projects can use to distribute small parts of work units (WUs).
It was originally developed for the SETI@Home project, and later became a project of its own in 2002, to enable a platform for distributed work.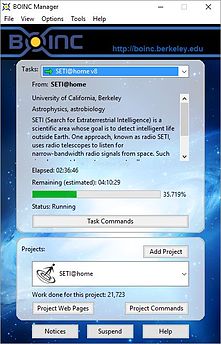 BOINC Platform working
on the SETI@Home project
The BOINC community is a fairly large one, with many projects available for distributed work, currently over 50+ projects in different areas. Each project has their own distributed software and their own rules for rewards. Some are scientific, searching for radio signals, identifying human genome or finding solutions to mathematical problems while others are for pure fun or curiosity where large computational resources are needed.
Projects on the platform is working independently of BOINC and each other. It's important to understand this as a user should do their research about a project before they attach it to their BOINC client. Make sure to read a projects forum or other resources.
Each user on the BOINC platform is assigned a random and unique identifer called a CPID, Cross Project IDentification. With this CPID a user can follow their score and rank among others, where BOINCStats is the largest site to do so at.
BOINC is a platform and a community of people dedicated to help and improve on scientific progress in many different areas.
Read more on how Gridcoin supports and rewards the BOINC Community